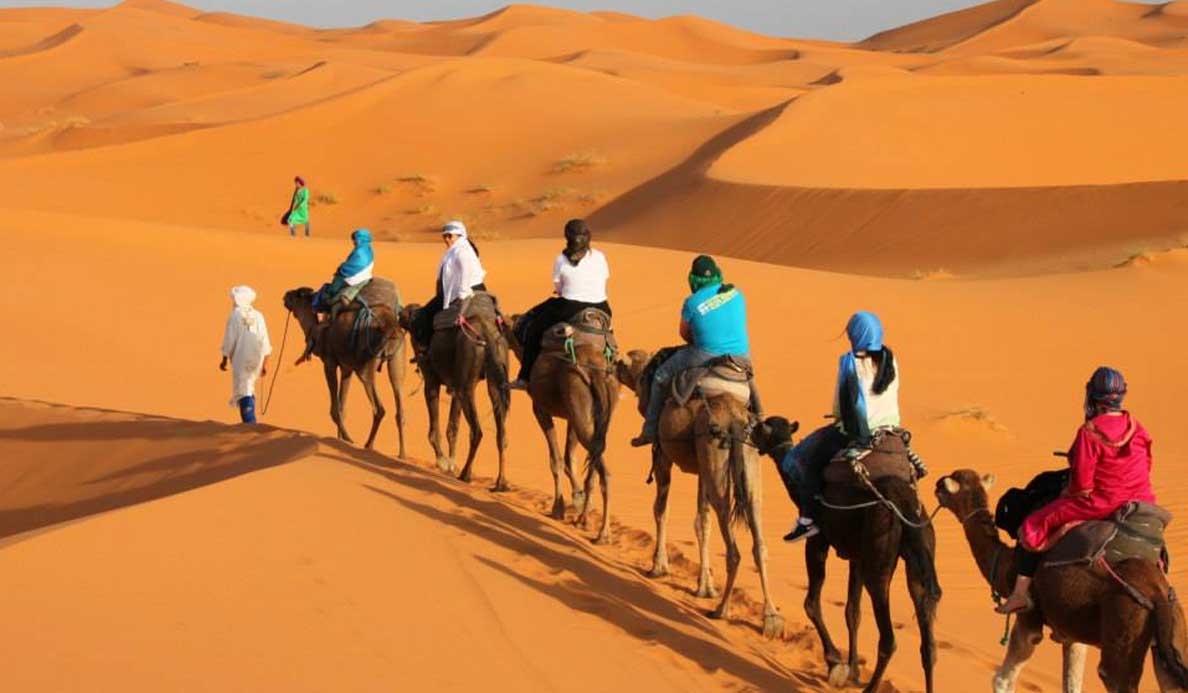 Morocco desert tours
Looking for your Morocco Desert Tour?
If you're looking for Morocco Desert Tours you've come to the right place. Our small group Morocco desert tours depart from Marrakech, or else where on and take you on an unforgettable journey to the most beautiful places in Morocco.
Morocco desert tours is a full day trip from Marrakech to Ouarzazate & Kasbah Ait Ben Haddou is ideal for those of you who cannot spare more than one day to get a sneak of Morocco desert tours. Take this round trip of 400 km across the Atlas mountain range via the Tizi Ntichka pass at an altitude of 2269 meters above sea level. Marvel at the brilliant landscape views dotted with Berber villages. Visit the legendary fortified Berber village of Kasbah Ait Ben Hadou and its sister town of Ouarzazate famous as the Hollywood of Africa.
We are specialized in organizing desert tours , day trips from Marrakech , Morocco desert tours from Marrakech to Fes (Fez) , desert safaris to Zagora, Merzouga & Erg Chigaga. Our Marrakech desert tours and multi day excursions vary from desert tour from Marrakech to Zagora, Morocco Sahara desert tour from Marrakech to Merzouga, Morocco desert tour to Erg Chigaga (Cheggaga) and Iriqui lake, an overland Fez to Marrakech desert tour, or a Marrakech to Fes desert tour with a camel trekking adventure as well as an overnight sleep at a Sahara desert camp in the middle of Erg Chebbi dunes. Our Morocco desert tour price is the best you can find in the market offered by a licensed desert tour operator. Price match and your satisfaction are guaranteed with us.
We're extremely proud of our range of Slow Travel Experiences, including , visits , High Atlas Mountains, Kasbahs & Valles, Off roads, Morocco Imperial City tours and wellness retreats in the most beautiful parts of Morocco.
If you're looking for a regular scheduled Morocco desert tour either from Marrakech or Fes, to visit the countryside, Berber villages, High Atlas Mountains do the camel trekking and sleep in a desert camp.
There are countless options that can be adapted to your needs and desires so that your stay will be both an easy and unforgettable one!
we arrange desert trekking as well as guided walks with night in nomad tent.
Highly recommended tours